Ubion Introduction
Ubiquitous + On
The name of 'UBION CO, LTD.' is derived on the word 'Ubiquitous' which means 'being everywhere at once'. Based on the literal meaning, Ubion supports (1) the environment for various educational service through data communication network anytime and anywhere, and (2) the network service for interaction with learners by a lot of learning tools, digital devices and advanced technology.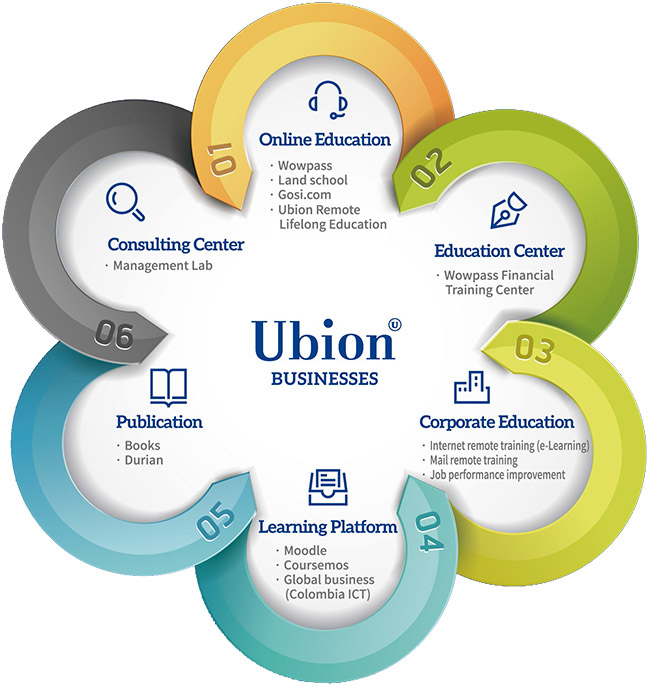 Enjoy learning, with Ubion
Ubion Co,Ltd is a company for 'life-long education based on Ubiquitous'.
Being with the history of Korean online education.
In the moment 'education via Internet' is not familiar with people, Ubion started 'WOWPASS(www.wowpass.com)' which provides inline education of financial field and national exam for officials in Korea since 2000.The education industry inKorea paid attention to this new way of learning that learners can access anytime, anywhere, with ease.
Ubion is the first company which its online course got th support businessperson learners by the Ministry of Employment and Labor in Korea, and now is the best financial education company in Korea.
Professional and various educational brands.
Ubion developed new other fields for inline services with high quality contents through development and cooperation. Currently, Ubion deals with the education services for financial(WOWPASS), Real Property (Land School), National exam for hiring officials(Gosi.com). Increased curriculum for the online courses and needs for corporate education made Ubion Cyber Training Institute(www.edubion.co.kr), which provides the best optimized education services for businesspeople who want self development.
Also, Ministry of Education in Korea nominated Ubion as the remote lifelong education institute, so Ubion provides lifelong education service(www.iubion.co.kr) for anyone who wants learning regardless of the age.
Infinite innovation and challenge as the leader of e-learning service.
In the education and IT fields, Ubion ha dealt with the change by creativity and innovation. Not only publishing digital textbooks, Ubion leads the e-learning field through e-learning convergence and Open Source LMS consulting service through Moodle.
Ubion is the main 'e-learning lifelong learning company' in Korea, and is going th be the leader of the worldwide e-learing industry for those who wants learning in the world.